Li et al., 2011
- Rack1 is required for Vangl2 membrane localization and planar cell polarity signaling while attenuating canonical Wnt activity. Proceedings of the National Academy of Sciences of the United States of America 108(6):2264-2269
Full text @ Proc. Natl. Acad. Sci. USA
Fig. 1 Rack1 interacts with Vangl2. (A) A diagram depicting the use of Vangl2c as the bait to screen a cochlear cDNA library to identify cytoplasmic Vangl2-interacting proteins. Yeast cells were serially diluted and replicated on rich media YAPD (yeast media containing yeast extract, peptone, dextrose plus adenine) plates and minimal select plates. (B) Vangl2EGFP and Rack1 can be coimmunoprecipitated with embryonic day 16.5 mouse embryo brain and cochlear extracts prepared from transgenic mice expressing Vangl2-GFP.(C) Rack1WD5–7 was efficiently pulled down by Vangl2, and there are two bands for HA-Rack1. The rabbit polyclonal antibody against Rack1 also recognizes two bands for the endogenous Rack1 (C), whereas the monoclonal antibody recognizes one band (B).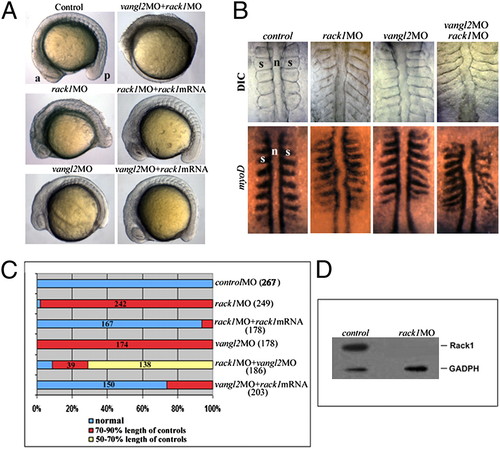 Fig. 2 Rack1 is required for zebrafish gastrulation. (A–C) Both rack1 and vangl2 morphants exhibited a shortened anterior–posterior axis as well as widened somites as shown by lateral (A) and dorsal (B) views of live embryos (B Upper) and embryos hybridized with myoD1 in situ probes (B Lower). The images in A and B are representative of each group of ∼200 embryos (C). Note that cellular shedding at the dorsal side was observed in rack1 or rack1 and vangl2 morphants but not vangl2 morphants. (D) Although Rack1 protein is abundant in control embryos of six-somite stage, it is barely detectable in rack1 morphant embryos of the same stage. a, anterior; p, posterior; n, notochord; s, somite.
EXPRESSION / LABELING:
| | |
| --- | --- |
| Gene: | |
| Fish: | |
| Knockdown Reagent: | |
| Anatomical Term: | |
| Stage: | 5-9 somites |
Fig. 3 Cellular polarization and oriented cell division are disrupted in rack1 morphants. (A and B) Cellular morphology in the notochord at the bud stage was visualized with fluorescein-labeled BODIPY ceramide (A Upper) and diagramed (A Lower). The angles formed between the long axis of each cell and the mediolateral axis of each embryo were calculated and plotted with the Oriana 3 program (B). (C and D) Embryos injected with control or rack1 MOs, or RNAs encoding Xdsh-D2, Histone 2B-RFP, and membrane GFP were imaged at the shield stage from the dorsal side to visualize the orientation of mitotic divisions in dorsal epiblast cells (C). The angles formed between the direction of each mitotic spindle and the animal–vegetal axis of each embryo were quantified (D). The yellow lines depict the orientation of mitotic spindles. A-V, animal–vegetal axis.
PHENOTYPE:
Fish:
Knockdown Reagents:
Observed In:
Stage Range:

Shield

to

Bud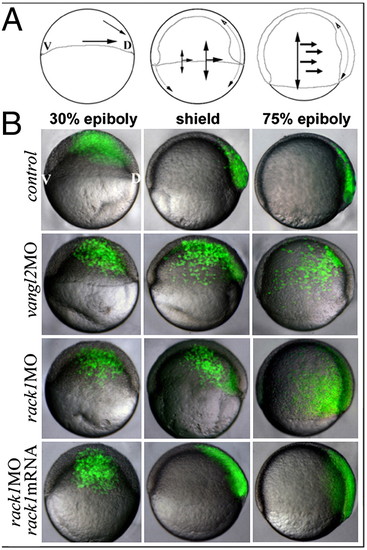 Fig. 4 Rack1 is required for CE during gastrulation. (A) The diagrams illustrate the directions of cellular movement during zebrafish gastrulation. (B) Images of live embryos injected with vangl2 MO, rack1 MO, or rack1 MO plus mouse rack1 mRNA and subsequently labeled single blastomere cell with fluorescein dextran at the 32-cell stage. V, ventral; D, dorsal.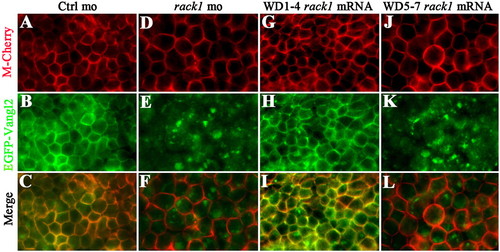 Fig. 5 Rack1 is required for membrane targeting of Vangl2. Injections of mRNA encoding EGFP-Vangl2 in control gastrulating (A–C) or rack1 morphant embryos (D–F). Coinjection of mRNA encoding Rack1 WD40 repeats 1–4 and EGFP-Vangl2 (G–I) or Rack1 WD40 repeats 5–7 and EGFP-Vangl2 (J–L). Views are of enveloping layer cells of a shield-stage embryo. RNA encoding membrane Cherry protein (M-Cherry) was included in all of the experiments to outline the cell membrane.
Fig. S2 Rack1 is expressed ubiquitously during early zebrafish embryogenesis. Embryos from 16-cell (A), six-somite (B), and 24-h postfertilization (hpf) (C) stages were subjected to in situ hybridization analysis with rack1 RNA probe.
Fig. S3 Dominant-negative effect of Rack1WD5–7 on gastrulation. (A and B) Live and myoD1 in situ hybridization images of embryos injected with full-length mouse rack1 mRNA, mRNA encoding Rack1WD1–4, or mRNA encoding Rack1WD5–7. (C) Gastrulation defect was quantified. a, anterior; p, posterior; s, somite; n, notochord.
Fig. S4 Rack1 is associated with Vangl2 in zebrafish embryo extracts. RNA encoding EGFP-Vangl2 (200 pg) was injected into zebrafish embryos at the one- or two-cell stage. The embryos were collected from the bud stage (10 hpf) to 10-somite stage (14 hpf) and processed for yolk removal and protein extraction from the dissected EGFP-Vangl2–expressing embryos. Similarly, extracts were made from control embryos. (A) Coimmunoprecipitation experiments were performed as described. Note that EGFP-Vangl2 was pulled down only in the presence of Rack1 antibody and that Rack1 was coimmunoprecipitated only in the presence of EGFP-Vangl2 and EGFP antibody. (B) The protein extracts from the control and EGFP-Vangl2–injected embryos were loaded directly and blotted with an antibody against Rack1 as input controls.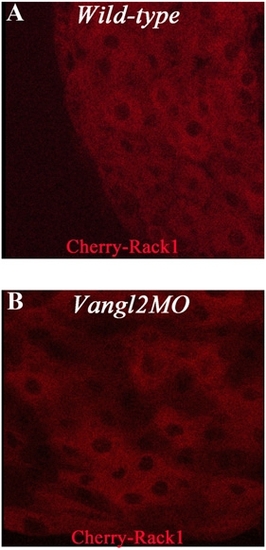 Fig. S5 Rack1 localization. RNA encoding Cherry-Rack1 was injected to control (A) and vangl2 (B) morphants. Views are of enveloping layer cells of shield-stage embryos.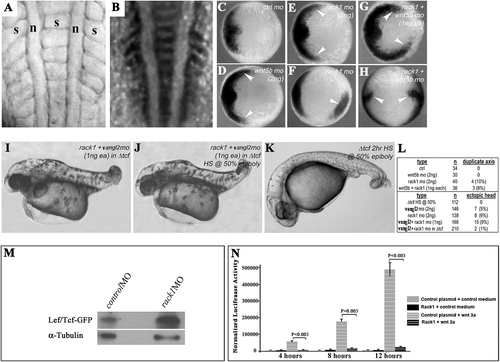 Fig. S6 Rack1 antagonizes canonical Wnt activity. (A–LM) Knockdown of Rack1 or Vangl2 led to the formation of duplicated body axes (A and B) as shown in live imaging (A) and with myoD1 expression (B). The expression of a canonical Wnt target gene, chd, in control (C), wnt5b (D), rack1 (E and F), and rack1 and wnt5b (G and H) morphants. Embryos injected with rack1 and vangl2 MO s without (I) or with (J) heat-shock treatment that inactivates canonical Wnt activity. Control embryos with heat-shock treatment (K) show a typical canonical Wnt loss-of-function phenotype. The quantification of the duplicated body axes was summarized in L. (M) Western blot with an antibody against GFP or α-tubulin using protein extracts from control- or rack1 MO–injected 24-h postfertilization embryos carrying canonical Wnt reporter GFP. (N) The graph summarizing normalized luciferase activities detected in HEK293 cells cotransfected with the canonical Wnt reporter construct and the control or Rack1-expressing plasmid with or without Wnt3a stimulation. The error bars represent the SDs among the normalized reporter activities from at least three independently transfected samples. a, anterior; p, posterior; n, notochord; s, somite.

Fig. S7 Rack1 and Vangl2 both form complexes with aPKCζ. An antibody against aPKCζ specifically pulled down both Vangl2GFP and Rack1 (Left), and antibodies against either Vangl2GFP or Rack1 coimmunoprecipitated specifically aPKCζ (Right) from embryonic day 16 mouse brain extracts.
Acknowledgments:
ZFIN wishes to thank the journal Proceedings of the National Academy of Sciences of the United States of America for permission to reproduce figures from this article. Please note that this material may be protected by copyright. Full text @ Proc. Natl. Acad. Sci. USA