Fig. 1 Development of pronephric glomerular filtration slits. (A) Diagram of the vertebrate glomerular filter. Glomerular capillaries (cap) are lined with fenestrated endothelial cells (endo) that rest on a basement membrane (bm). Apposed on the opposite face of the basement membrane, podocyte foot processes (fp) form filtration slits that contain the slit-diaphragm as a specialized cell–cell junction. Arrows represent the path of blood fluid filtration. (B) At 84 hpf, the glomerulus (gl), the pronephric tubule (pt) and the pronephric ducts (pd) are fully formed between the gut (g), liver (liv) and the notochord (nc). Bowman′s space (bs) is clearly evident around the glomerulus (gl) and is drained by the pronephric tubules. The glomerular capillary tuft originates from the dorsal aorta (da). (C) Electron micrograph of 72 hpf podoctye foot processes (fp) reveals broad spreading cell processes as opposed to the fine interdigitations present at later stages of development. Some slit-diaphragms (sd) are present. (D) Electron micrograph at 96 hpf shows a capillary lumen (cap) and endothelial cells (endo). Podocytes (pod) and their foot processes (fp) surround the capillary along the basement membrane (bm). Slit-diaphragms (sd, arrowheads) are clearly visible between the individual foot processes. On a tangential section of a capillary wall (inset), interdigitating foot processes (fp) can be seen (arrows).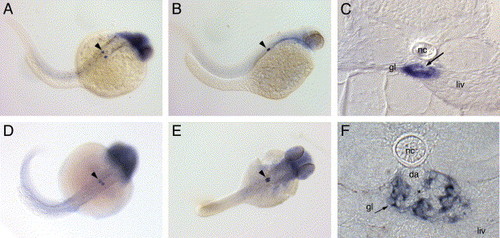 Fig. 3 nephrin and podocin are exclusively expressed in the pronephric glomerulus. Nephrin is expressed in the forming glomerulus starting at 24 hpf (A) and continues to be expressed at 48 hpf (B) and 72 hpf (C). Expression of podocin at 36 hpf (D) marks the podocyte precursor cells; at 48 hpf (E), podocin positive nephron primordia lie adjacent to each other. Cross-sections at 72 hpf show the glomerular expression of nephrin (C) in a localization typical for podocytes surrounding the glomerular capillary tuft (C, arrow). At 120 hpf (F), nephrin expression is strong in podocytes adjacent to the capillary tuft (*) originating from the dorsal aorta (da). Endothelial cells in the aorta and the glomerular capillaries are negative for nephrin expression. Diffuse staining for both probes in the head was not strong or reproducible and most likely represents optical summation of background staining. Spots of dark pigment in the trunk in panel A are not nephrin expressing cells but rather pigment cells that escaped PTU treatment (gl, glomerulus; liv, liver; nc, notochord; da, dorsal aorta).
EXPRESSION / LABELING:
Genes:
Fish:
Anatomical Term:
Stage Range:

Prim-5

to

Day 5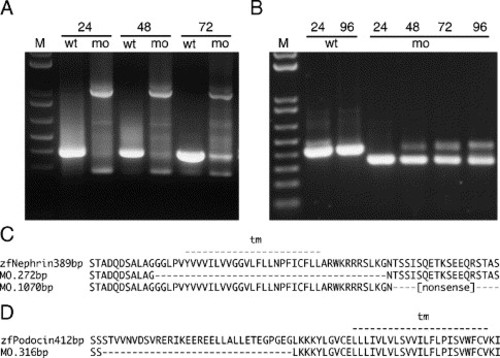 Fig. 4 nephrin and podocin mRNA splicing defects induced by morpholinos targeting exon donor sites. RT-PCR was performed from total RNA of single embryos at the indicated stage (24, 48, 72, 96 hpf) with flanking exon primers (M, 10 kb plus DNA marker, Invitrogen). (A) The nephrin morpholino targeting the splice donor of the transmembrane domain coding exon caused an in-frame deletion of this exon, visible as a decrease in amplicon size (272 bp versus 389 bp amino acid sequences are aligned in panel C), or a non-splicing of the adjacent intron, visible as an increase in amplicon size (1070 bp) leading to a truncation after a stretch of non-sense amino acids (C). Both forms of nephrin mRNA are predicted to encode a protein lacking the cytosolic C-terminus of the nephrin. The morpholino effects last for at least 72–96 hpf. (B) The podocin morpholino causes an in-frame deletion of part of the first coding exon (amplicon size 316 bp versus 412 bp leading to a shortened N-terminus of the Podocin molecule (D)).
EXPRESSION / LABELING:
Genes:
Fish:
Knockdown Reagents:
Anatomical Term:
Stage Range:

Prim-5

to

Day 4
Fig. 5 nephrin and podocin morphant embryos exhibit progressive edema, glomerular malformation and podocyte foot process effacement. (A) nephrin and podocin morphant larvae develop severe pericardial edema (arrowheads) at 96 hpf. (B–F) Histological sections of 72 hpf embryos stained with methylene blue/azure II. (B) Normal wild-type glomerulus (gl). Glomeruli in nephrin morphant larva are somewhat flattened (C), and, in approximately 30% of morpholino injected embryos, the glomerulus appears as a midline septum with distended tubules (* in panel D). (E) In cystic nephrin morphants, evidence for obstruction of the pronephric duct could be seen in the presence of large, occluding crystaline deposits (white arrowheads) that completely fill the duct lumen. Particulate debris in the duct lumen was also observed in podocin morphants (F). In contrast to wild-type podocytes (see Fig. 1), nephrin morphant podocytes at 96 hpf show foot process effacement (G) and lack of fine interdigitation. Similarly, podocin morphant podocytes at 96 hpf exhibit irregular processes and foot process effacement (H). At 96 hpf, wild-type podocyte foot processes and slit-diaphragms appear as "beads on a string" (I; arrowheads) along the basement membrane of the capillary wall. nephrin and podocin foot processes at 96 hpf are broad and effaced and lack slit-diaphragms (panels J and K are higher magnifications of the boxed areas in panels G and H).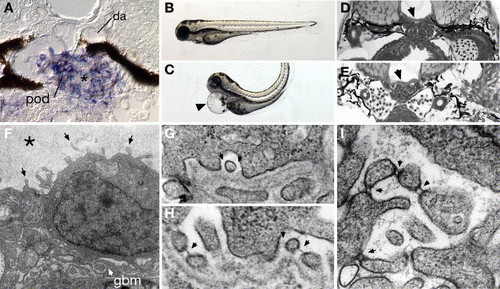 Fig. 6 Expression of the FERM protein mosaic eyes (moe) in podocytes and cell-junction defects associated with moe loss of function. moe mRNA is highly expressed in 96 hpf wild-type podocytes (A) and not adjacent endothelial cells of the glomerular capillary (*) or the dorsal aorta (da). Homozygous moe mutants at 80 hpf show a dorsally bent body axis and pericardial edema (arrowhead in panel C) compared to sibling heterozygotes (B). Glomerular capillary formation in wild-type moe heterozygotes (D) and moe homozygotes (E) is similar, indicating that moe is not required for early glomerular morphogenesis. (F) In contrast to wild-type podocytes (see Fig. 1), moe mutant podocytes aberrantly extend cell processes from their apical surface (arrows; "microvillar" projections). Bowman′s space is also filled with an electron-dense precipitate (*) suggesting protein leakage. On moe podocyte foot processes that are adherent to the basement membrane (G), slit-diaphragms are not commonly observed (arrows denote missing slit-diaphragms); wild-type embryos commonly display slit-diaphragms (H) between similar types of foot processes (arrows). Podocyte cell processes in moe -/- embryos that project into Bowman′s space often show doublet cross-strands between nearby cell projections (arrows).
EXPRESSION / LABELING:
| | |
| --- | --- |
| Gene: | |
| Fish: | |
| Anatomical Term: | |
| Stage: | Day 4 |
Fig. 7 Failed slit-diaphragm formation correlates with loss of barrier function in the glomerulus. 500 kDa FITC-dextran was injected into the circulation of 80 hpf larvae and the larvae were fixed the next morning (96 hpf) and sectioned. Dye uptake by endocytosis from the pronephric duct lumen was assessed at the level of the swim bladder (sb). Arrowheads indicate the position of pronephric ducts in the cross-sections. In wild-type control larvae (A), FITC fluorescence is present in the vasculature surrounding the pronephric ducts; however, no endosomes containing filtered dye are visible (arrowheads) in the pronephric duct epithelial cells. In nephrin (B) and podocin (C) morpholino injected embryos, dye uptake is detectable in the form of small apical endosomes adjacent to the duct lumen. Wild-type moe heterozygous larvae (D) show no dye uptake in the pronephric ducts, while moe homozygous mutant larvae (E) exhibit abundant dye uptake (arrowheads) at the same position in the ducts. (F) The plane of section for cross-sections in panels A–E is shown. The table represents the number of larvae examined/number of larvae positive for endocytosed dye in the pronerphic duct. 500 kDa FITC-dextran (green), autofluorescence (red).
Acknowledgments:
ZFIN wishes to thank the journal Developmental Biology for permission to reproduce figures from this article. Please note that this material may be protected by copyright.

Reprinted from Developmental Biology, 285(2), Kramer-Zucker, A.G., Wiessner, S., Jensen, A.M., and Drummond, I.A., Organization of the pronephric filtration apparatus in zebrafish requires Nephrin, Podocin and the FERM domain protein Mosaic eyes, 316-329, Copyright (2005) with permission from Elsevier. Full text @ Dev. Biol.