Fig. 3
In vivo half-depth of field OPT reconstruction of a 5 days post fertilization transgenic mpx:GFP zebrafish, combining sequential fluorescence (for neutrophil GFP expression, shown in green) and transmission (for zebrafish morphology, shown in grey) acquisitions.
(a) Single slice through the reconstruction, accompanying (b) YZ cross-section (CS) along vertical yellow line in (a). (c) Maximum intensity projection (MIP) through entire reconstructed volume. (d) Magnified view of reconstruction within red box indicated in (b), and (e) line profile through neutrophils cells.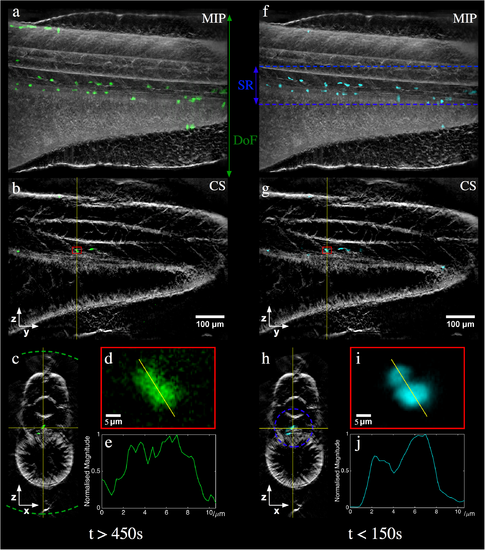 Fig. 5
Fluorescence (green/cyan) and transmitted light (grey) reconstructions from an in vivo acquisition of a 5 dpf Tg(mpx:GFP) zebrafish using (a-e) an image relay for standard full-depth of field OPT at NA~0.035 and (f-j) RoI-OPT at full NA with an axial scan range (SR) of 130 μm.
(a,f) MIP of full reconstruction, (b,g) single YZ slice, (c,h) single XZ slice with depth of field and SR respectively indicated by dotted lines, (d,i) fluorescence reconstruction from region indicated by red box and (e,j) corresponding intensity line profile.
Acknowledgments:
This image is the copyrighted work of the attributed author or publisher, and ZFIN has permission only to display this image to its users. Additional permissions should be obtained from the applicable author or publisher of the image. Full text @ PLoS One