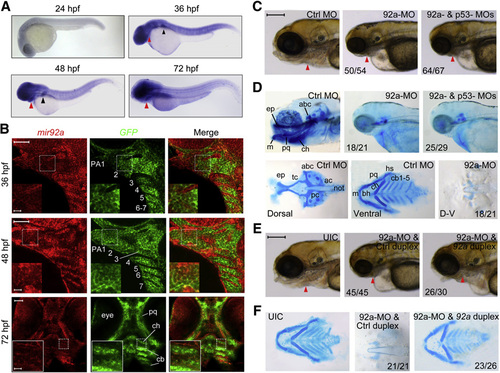 Fig. 1 mir92a Expression Pattern and Knockdown Effect on Head Cartilages in Zebrafish Embryos
(A) Expression pattern of mir92a at different stages as detected by in situ hybridization. The pharyngeal region and pectoral fins were indicated by a red and a black arrowhead, respectively.
(B) Expression of mir92a in pharyngeal arches. Tg(fli1:EGFP) transgenic embryos at 36–72 hpf were hybridized with mir92a (red) and GFP (green) probes, and the signals were amplified with TSA tetramethylrhodamine. Seven pharyngeal arches (PA1–7), with dorsal to the right, were labeled in the middle picture. cb, ceratobranchial; ch, ceratohyal; pq, palatoquadrate. The boxed areas in the images were presented at higher magnification in the relevant insets. Scale bars, 50 or 10 µm in the inset.
(C) Morphology of the head in morphants at 96 hpf. The pharyngeal region was indicated by an arrowhead. Lateral views. Each MO was injected into one-cell stage embryos at the dose of 4 ng. The ratio of embryos with representative pharyngeal cartilage defects (shown) was indicated. Scale bar, 200 µm.
(D) Head cartilages stained with Alcian blue at 80 hpf. Upper panel, lateral views; lower panel, dorsal or ventral views. Lower panel showed the pattern of dorsal neurocranium (left picture) and ventral pharyngeal cartilages (middle picture) with labels: ep, ethmoid plate; tc, trabeculae cranii; pc, parachordal; ac, auditory capsule; abc, anterior basicranial commissure; bh, basihyal; cb, ceratobranchial; ch, ceratohyal; hs, hyosymplectic; m, Meckel's cartilage; not, notochord; pq, palatoquadrate. The skeletons were positioned with anterior to the left (the same applied to the other figures below).
(E and F) mir92a-MO-induced pharyngeal cartilage defects were rescued by coinjection of mir92a duplex. We injected 4 ng of 92a-MO plus 1 nl of control miRNA duplex or mir92a duplex at a concentration of 25 µM at the one-cell stage. Head morphology at 96 hpf (E) or Alcian blue-stained head cartilages at 80 hpf (F) were shown. UIC, uninjected control embryos; also applied to the other figures. Scale bar in (E), 200µm.
See also Fig. S1.