Boije et al., 2010
- Pax2 is expressed in a subpopulation of Müller cells in the central chick retina. Developmental dynamics : an official publication of the American Association of Anatomists 239(6):1858-1866
Full text @ Dev. Dyn.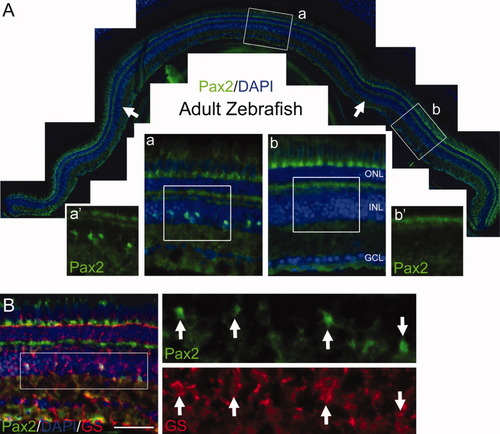 Fig. 4 Pax2 labeling in the zebra fish retina. A: Epifluorescence micrograph from a whole section of adult retina showing Pax2 labeling. Arrows indicate the limits of the central Pax2 labeling. a,b: Magnifications of the boxed regions in A. a′,b′: The green channel of the boxed regions in (a) and (b). B: Pax2 co-labeling with the Müller cell marker glutamine synthetase (GS). Arrows indicate Pax2, GS double-positive cells. ONL, outer nuclear layer; INL, inner nuclear layer; GCL, ganglion cell layer. Scale bar = 25 μm in B (applies to (a) and (b)).
EXPRESSION / LABELING:
| | |
| --- | --- |
| Antibodies: | |
| Fish: | |
| Anatomical Term: | |
| Stage: | Adult |
Acknowledgments:
ZFIN wishes to thank the journal Developmental dynamics : an official publication of the American Association of Anatomists for permission to reproduce figures from this article. Please note that this material may be protected by copyright. Full text @ Dev. Dyn.