ZFIN ID: ZDB-FIG-191007-13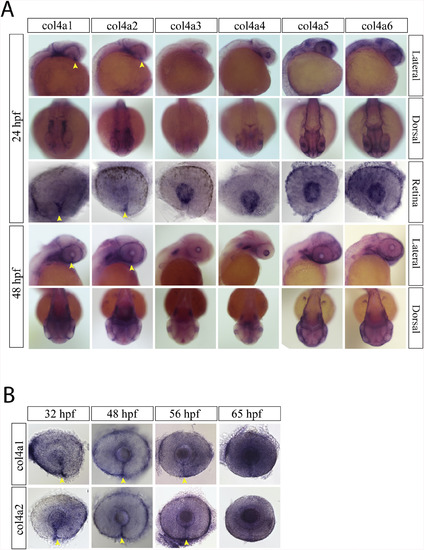 Fig. 3
Collagen IV expression during optic fissure formation and fusion. A) WISH for zebrafish collagen IV (col4) genes a1-a6 at 24hpf. At 24hpf, only collagen IV a1 and a2 had optic fissure expression (yellow arrow heads). Col4 a3-a6 were all detected in the retinal periphery and in the developing lens. B) WISH time course for col4 a1 and a2 expression from 24 to 65hpf. Both col4 a1 and a2 had detectable expression in the optic fissure up to 56hpf (yellow arrow heads).
Antibody Labeling Details
No data available
Phenotype Details
No data available
Acknowledgments:
This image is the copyrighted work of the attributed author or publisher, and ZFIN has permission only to display this image to its users. Additional permissions should be obtained from the applicable author or publisher of the image.

Reprinted from Developmental Biology, 452(1), Nicholas, C., Weaver, M., Piedade, W.P., Vocking, O., Famulski, J.K., Temporal characterization of optic fissure basement membrane composition suggests nidogen may be an initial target of remodeling, 43-54, Copyright (2019) with permission from Elsevier. Full text @ Dev. Biol.