ZFIN ID: ZDB-FIG-190723-1187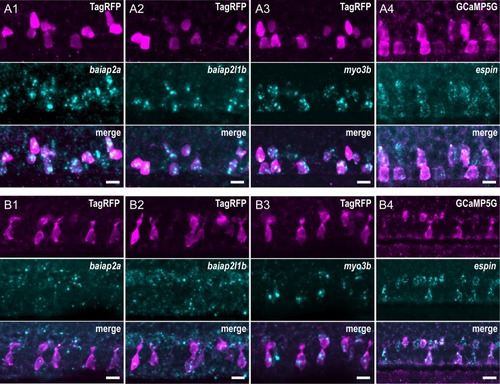 Fig 4
Expression of candidate factors known to be involved in the formation of actin-based protrusions—baiap2a, baiap2l1b, myo3b, and espin—assessed by FISH at 24 hpf (A1–4) and 72 hpf (B1–4). Expression in CSF-cNs was validated by combining FISH to IHC for RFP or GFP in Tg(pkd2l1:TagRFP) (A1–3, B1–3) or Tg(pkd2l1:GCaMP5G) (A4, B4) transgenic animals, respectively. In 24-hpf embryos, baipa2a (A1), baiap2l1b (A2), myo3b (A3), and espin (A4) were enriched in CSF-cNs. In 72-hpf larvae, expression of baiap2a (B1) and baiap2l1b (B2) was not clearly detected, whereas myo3b (B3) and espin (B4) remained strongly expressed in CSF-cNs. Scale bars, 10 μm. CSF-cN, cerebrospinal fluid-contacting neuron; FISH, fluorescent in situ hybridization; GFP, green fluorescent protein; hpf, hours post fertilization; IHC, immunohistochemistry; RFP, red fluorescent protein.
Antibody Labeling Details
No data available
Phenotype Details
No data available
Acknowledgments:
ZFIN wishes to thank the journal PLoS Biology for permission to reproduce figures from this article. Please note that this material may be protected by copyright. Full text @ PLoS Biol.