ZFIN ID: ZDB-FIG-190723-1186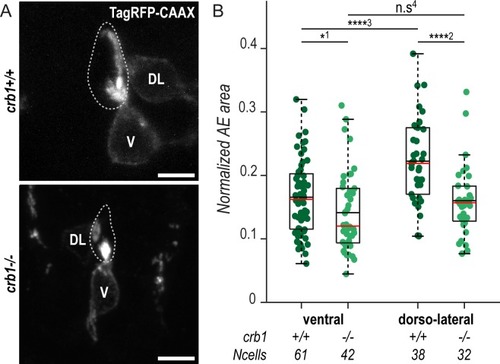 Fig 3
(A) Z-projections from transversal sections showing V and DL TagRFP-CAAX-expressing CSF-cNs in 72-hpf larvae illustrating the smaller AE in crb1−/− (bottom panel) compared with wild-type siblings (top panel). The central canal is outlined (dotted lines) according to ZO-1 staining. Scale bars, 5 μm. (B) Quantification of the normalized area covered by CSF-cN AEs at 72 hpf in V and DL cells in crb1−/− (light green; N = 3 fish) compared with wild-type siblings (dark green; N = 4 fish). In both CSF-cN subtypes, the AE was significantly smaller in mutant larvae compared with wild-type (p1 = 0.0477, p2 = 9.9019 × 10−5, p3 = 2.6381 × 10−5, p4 = 0.1876). Underlying data can be found in S1 Data. AE, apical extension; Crb1, Crumbs 1; CSF-cN, cerebrospinal fluid-contacting neuron; DL, dorsolateral; hpf, hours post fertilization; n.s., not significant; V, ventral; ZO-1, zonula-occludens-1.
Gene Expression Details
No data available
Antibody Labeling Details
No data available
Acknowledgments:
ZFIN wishes to thank the journal PLoS Biology for permission to reproduce figures from this article. Please note that this material may be protected by copyright. Full text @ PLoS Biol.