ZFIN ID: ZDB-FIG-181101-7
EXPRESSION / LABELING:
Genes:
Fish:
Anatomical Terms:
Stage Range:

High

to

Prim-5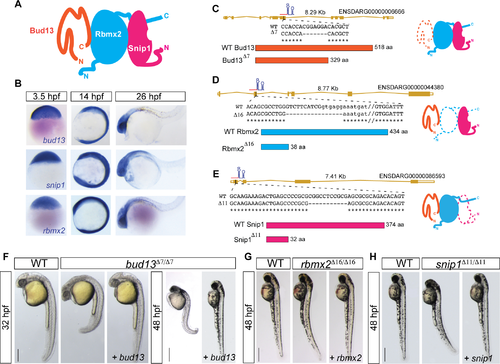 Fig. 1
RES complex is essential for early vertebrate development.
(A) Schematic model of the RES complex adapted from Brooks et al. [8]. Rbmx2 (light blue) is the core subunit with an RRM-domain structure. Bud13 (orange) and Snip1 (pink) interact with Rbmx2 (light blue). (B) In situ hybridization showing spatial and temporal expression of RES complex members. (C-E) Gene models of the mutant allele generated using CRISPR-Cas9-nanos. (C) bud13, 7 nt deletion in exon 6 generated a premature stop codon. (D) rbmx2, 16 nt deletion removed exon-intron boundary at exon 2 (exon capital letter, intron lower letter). (E) snip1, 11 nt deletion in exon 1 generated a premature stop codon. f-g) Lateral view of RES complex mutant embryos, their corresponding WT sibling and mutants injected with the cognate mRNA. (F) bud13 mutant at 32 hpf (scale bar: 0.35mm) and at 48 hpf (scale bar: 0.5mm). (G, H) rbmx2 and snip1 mutant at 48 hpf respectively. WT: represent phenotypically wild type sibling from the same mutant fish line.
Antibody Labeling Details
No data available
Acknowledgments:
ZFIN wishes to thank the journal PLoS Genetics for permission to reproduce figures from this article. Please note that this material may be protected by copyright. Full text @ PLoS Genet.