ZFIN ID: ZDB-FIG-180706-59
Your Input Welcome
Thank you for submitting comments. Your input has been emailed to ZFIN curators who may contact you if additional information is required.
Oops. Something went wrong. Please try again later.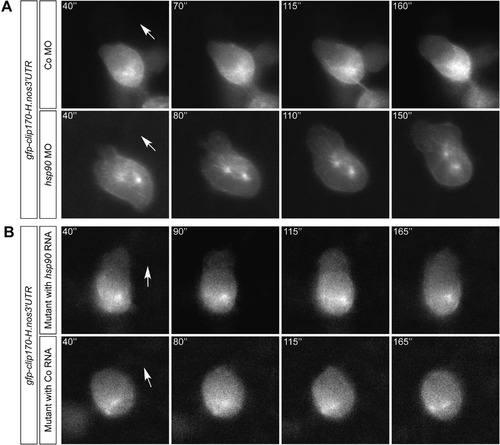 Fig. 4
Hsp90aa1.2 function is important for microtubule organization. (A) In control PGCs, the single MTOC is positioned at the back of the migrating cell (n = 31 cells, 4 cells showing two MTOCs (13%); upper panels), while in embryos in which Hsp90aa1.2 is knocked down, a large proportion of the cells show a duplicated MTOC (n = 22 cells, 11 cells with two MTOCs (50%); lower panels). (B) In embryos mutated for hsp90aa1.2, duplicated MTOCs are found in the migrating PGCs (n = 41 cells, 22 cells with two MTOCs (52%); lower panels), a phenomenon reversed by introduction of RNA encoding for Hsp90aa1.2 in PGCs by fusing the open reading frame of the RNA to the 3'UTR of the nanos3 gene (n = 51 cells, 9 cells with two MTOCs (18%); upper panels). The experiments were performed using the hsp90aa1.2d34 and the hsp90aa1.2d5 alleles, as well as in embryos harboring both alleles.
Gene Expression Details
No data available
Antibody Labeling Details
No data available
Acknowledgments:
ZFIN wishes to thank the journal Developmental Biology for permission to reproduce figures from this article. Please note that this material may be protected by copyright.

Reprinted from Developmental Biology, 436(2), Pfeiffer, J., Tarbashevich, K., Bandemer, J., Palm, T., Raz, E., Rapid progression through the cell cycle ensures efficient migration of primordial germ cells - the role of Hsp90, 84-93, Copyright (2018) with permission from Elsevier. Full text @ Dev. Biol.