ZFIN ID: ZDB-FIG-170825-7
Your Input Welcome
Thank you for submitting comments. Your input has been emailed to ZFIN curators who may contact you if additional information is required.
Oops. Something went wrong. Please try again later.
EXPRESSION / LABELING:
Genes:
Fish:
Knockdown Reagent:
Anatomical Terms:
Stage Range:

Prim-5

to

Prim-15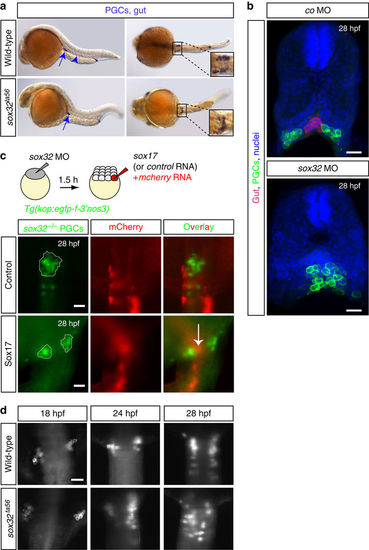 Fig. 5
Lack of the developing gut causes PGC cluster fusion.
(a) Whole-mount in situ hybridization on 30 hpf wild-type (N=420) and sox32 mutant embryos (N=89). PGCs are labelled with nanos3 (nos3, arrows) and the gut with foxa3 probe (arrowhead, missing in sox32 mutant embryos), both in blue. Unlike the separated PGC clusters in wild-type embryos, clusters are fused at the midline in sox32 mutant embryos (upper and lower panel images, respectively). Lateral (left panels) and dorsal (right panels) views are shown. (b) Cross-sections of 28 hpf sox17:dsred transgenic embryos whose gut is labelled in red and the PGCs membrane with EGFP. In control embryos (upper panel; N=5) bilateral PGC clusters form on either side of the gut tube. In embryos lacking the gut (Sox32-deficient; N=4) the PGC clusters fuse (lower panel). Nuclei counterstained with Hoechst. Scale bars, 25 μm. (c) Generation of mosaic embryos lacking Sox32 function in all cells whose endoderm is restored by providing Sox17 function to a group of cells (Scheme). The Sox32-deficient PGC clusters (green) are separated by the gut tissue at 28 hpf (red in lower panel, arrow; N=13), while in control embryos lacking endodermal tissues fused PGC clusters are observed (upper panel; N=24). Anterior is up. (d) PGC clusters in wild-type (N=20) and sox32 mutant (N=7) embryos lacking the gut tissue at 18, 24 and 28 hpf showing the dynamics of the fusion. N is the number of embryos analysed. Scale bar, 50 μm. Anterior is up.
Antibody Labeling Details
No data available
Acknowledgments:
ZFIN wishes to thank the journal Nature communications for permission to reproduce figures from this article. Please note that this material may be protected by copyright. Full text @ Nat. Commun.