ZFIN ID: ZDB-FIG-170816-5
Dimri et al., 2017
- Three-dimensional structural analysis reveals a Cdk5-mediated kinase cascade regulating hepatic biliary network branching in zebrafish. Development (Cambridge, England) 144:2595-2605
Full text @ Development
EXPRESSION / LABELING:
| | |
| --- | --- |
| Gene: | |
| Antibodies: | |
| Fish: | |
| Conditions: | |
| Anatomical Terms: | |
| Stage: | Day 5 |
PHENOTYPE:
| | |
| --- | --- |
| Fish: | |
| Conditions: | |
| Observed In: | |
| Stage: | Day 5 |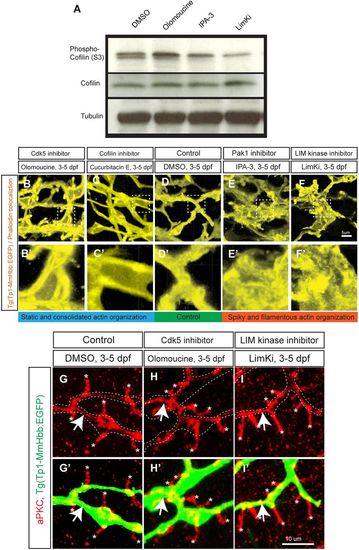 Fig. 5
The Cdk5-mediated kinase cascade regulates F-actin cytoskeletal organization. (A) Cofilin phosphorylation levels at serine 3 (S3) in wild-type larvae treated with DMSO, olomoucine, IPA-3 or LimKi and analyzed by western blotting. Olomoucine treatment increased Cofilin S3 phosphorylation, thus inhibiting its activity. IPA-3 and LimKi treatment suppressed Cofilin S3 phosphorylation, activating its activity. Total Cofilin protein levels remained constant. Tubulin blotting provided a loading control. These experiments were repeated three times with similar results. (B-F) Projected colocalization signal images computed based on Tg(Tp1-MmHbb:EGFP)um14 expression and phalloidin to visualize the actin network in biliary epithelial cells at 5 dpf in larvae treated as indicated. Compared with the control, F-actin appeared to be localized around the lumen in olomoucine-treated and cucurbitacin E-treated larvae, whereas it showed spiky and filamentous organization in IPA-3-treated and LimKi-treated larvae. Boxed regions in B-F are magnified in B′-F′. (G-I) Projected images of 15 μm-thick confocal z-stacks of the liver in larvae treated as indicated and visualized for apical membrane marker aPKC (red) expression at 5 dpf. (G′-I′) aPKC expression merged with Tg(Tp1-MmHbb:EGFP)um14 (green) expression. At 5 dpf, aPKC showed restricted expression in bile canaliculi (asterisks), which are the apical membranes of hepatocytes, and in the apical membranes of biliary epithelial cells (arrows) in control larvae. This expression was unchanged by olomoucine or LimKi treatment. These data suggest that Cdk5 or LimK inhibitors do not influence the apicobasal polarization of biliary epithelial cells.
Antibody Labeling Details
Acknowledgments:
ZFIN wishes to thank the journal Development (Cambridge, England) for permission to reproduce figures from this article. Please note that this material may be protected by copyright. Full text @ Development