ZFIN ID: ZDB-FIG-170608-23
PHENOTYPE:
| | |
| --- | --- |
| Fish: | |
| Observed In: | |
| Stage: | Day 4 |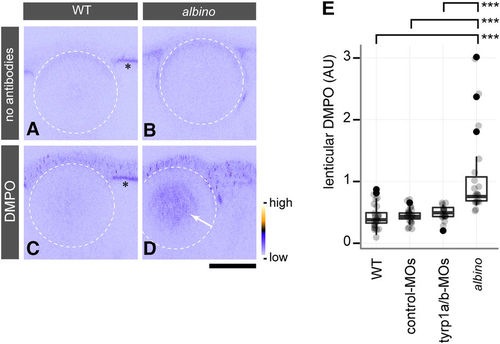 Fig. 4
The cataractous lens in albino mutants shows lens protein radicals caused by oxidative stress.
(A–D) In situ DMPO adduct distribution in the eye of wild type (WT) (A,C) and albino homozygous mutants (B,D) at 4 dpf. The white stippled circles outline the lens. albino homozygous mutants show abnormal DMPO adducts in the nucleus of the lens (D, arrow), visualised by staining with an anti-DMPO antibody and a fluorescent secondary antibody, whereas this staining is absent from the lens of WT embryos (C). The panels (A,B) show images obtained with the staining solutions lacking antibodies for WT and albino embryos, respectively. Asterisks (A,C) indicate the autofluorescence observed in the RPE of WT. The colour ramp next to panel (D) denotes the fluorescent signal intensity for DMPO adducts. Scale bars: 50 μm. (E) Quantification of DMPO adducts in the lens. One-way ANOVA showed significant differences (F[3, 78] = 15.674, p = 4.54 × 10−8) between albino homozygous mutants (n = 19 embryos), un-injected WT (n = 24 embryos), and WT embryos injected with control-MOs (n = 22 embryos) or tyrp1a/b-MOs (n = 17 embryos). A significant increase of DMPO adducts was observed in the lenses of albino mutants in comparison to all other conditions (Tukey HSD test; ***p = 3.0 × 10−7 for WT vs. albino; ***p = 8.0 × 10−7 for control MO-injected WT vs. albino; ***p = 2.02 × 10−5 for tyrp1a/b MO-injected WT vs. albino).
Gene Expression Details
No data available
Antibody Labeling Details
No data available
Acknowledgments:
ZFIN wishes to thank the journal Scientific Reports for permission to reproduce figures from this article. Please note that this material may be protected by copyright. Full text @ Sci. Rep.