ZFIN ID: ZDB-FIG-170117-15
EXPRESSION / LABELING:
Genes:
Fish:
Anatomical Terms:
Stage Range:

Day 4

to

Day 5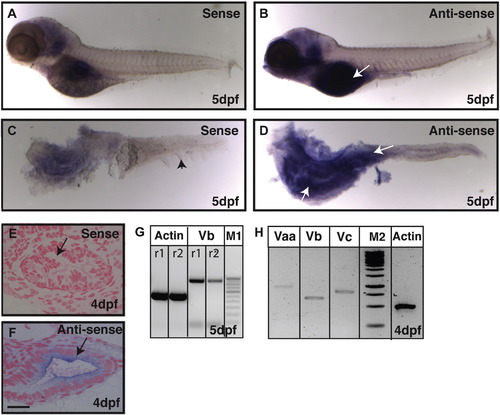 Fig. 1
Expression analysis reveals that gsp/myoVb is expressed in the intestine of zebrafish larvae.
In situ hybridisation analyses on 5-day-old larvae using sense control probe (A, C) and anti-sense probe against myosin Vb (B, D) in whole mount (A, B) and post-staining isolated intestines (C, D) reveal that myosin Vb is expressed in the intestine. The histological sections of 4dpf (E, F) larvae stained using sense control probe (E) and anti-sense probe (F) show the presence of myosin Vb transcripts in the gut epithelium. RT-PCR analyses performed on cDNA from intestines isolated from 4 and 5 day-old larvae show that myosin Vb (G) and other two myosin V paralogues, Vaa and Vc (H) are expressed in the intestine. Abbreviation: M1 - 100 bp ladder marker. M2 - 1Kb ladder marker. The white arrows (in B and D) point towards the expression of myoVb. The black arrowhead in C points to the median fin-fold. The black arrows in (E, F) indicate the gut epithelium. r1 and r2 are PCR reactions 1 and 2, respectively. Note that the difference between the myo Vb amplicon size in G and H is due to two different primer pairs used. Scale bar in F is equal to 20 μm in E, F.
Antibody Labeling Details
No data available
Phenotype Details
No data available
Acknowledgments:
ZFIN wishes to thank the journal Mechanisms of Development for permission to reproduce figures from this article. Please note that this material may be protected by copyright.

Reprinted from Mechanisms of Development, 142, Sidhaye, J., Pinto, C.S., Dharap, S., Jacob, T., Bhargava, S., Sonawane, M., The zebrafish goosepimples/myosin Vb mutant exhibits cellular attributes of human microvillus inclusion disease, 62-74, Copyright (2016) with permission from Elsevier. Full text @ Mech. Dev.