ZFIN ID: ZDB-FIG-160203-11
EXPRESSION / LABELING:
Genes:
Fish:
Anatomical Terms:
Stage Range:

Prim-5

to

Day 5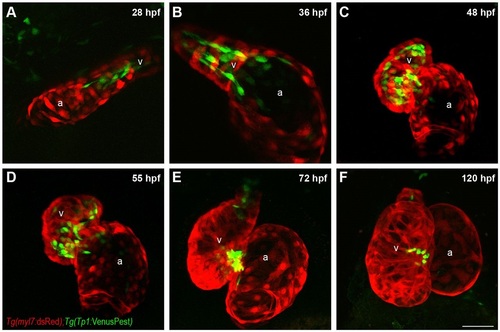 Fig. 3
Notch activation in the ventricular endocardium. (A-F) Confocal z-stack maximal intensity projection of hearts from double transgenic Tg(Tp1:VenusPest); Tg(myl7:dsRed) embryos at designated time points, with Tp1:VenusPest expression in green and cardiomyocytes marked in red. Scale bar: 50µm. a, atrium; v, ventricle.
Antibody Labeling Details
No data available
Phenotype Details
No data available
Acknowledgments:
ZFIN wishes to thank the journal Development (Cambridge, England) for permission to reproduce figures from this article. Please note that this material may be protected by copyright. Full text @ Development