ZFIN ID: ZDB-FIG-150326-33
Dyer et al., 2014
- Specification of sensory neurons occurs through diverse developmental programs functioning in the brain and spinal cord. Developmental dynamics : an official publication of the American Association of Anatomists 243(11):1429-39
Full text @ Dev. Dyn.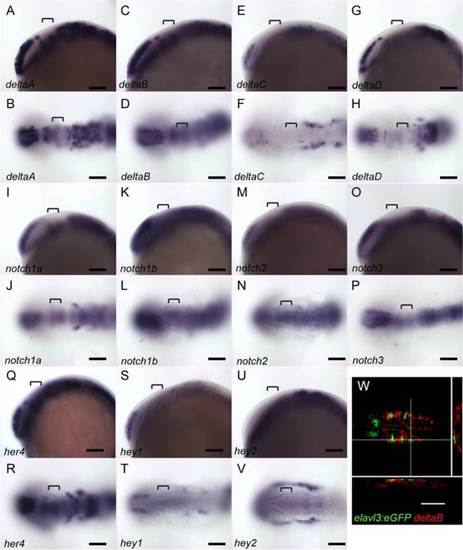 Fig. 3
Notch signalling components are expressed in the midbrain at early neurogenesis stages. Lateral views of the heads of 14-hpf embryos processed by in situ hybridisation (A–V). The Notch receptors elta, deltaB, deltaC, and deltaD (A–H), the Notch ligands notch1a, notch1b, notch2, and notch3 (I–P) and Notch-regulated genes her4, hey21, and hey4 (Q-V) were assessed for expression in the dorsal midbrain where MTN neurons will arise (bracket). No specific delta gene expression was detected, but notch1b and notch2 expression was observed in the dorsal midbrain. Both hey2 and her4 also showed expression in dorsal midbrain cells. Dorsal and orthogonal views of a 24-hpf Tg[elavl3:egfp] embryo processed by fluorescent in situ hybridisation and immunohistochemistry with anti-GFP reveals that expression of deltaB did not co-localise with EGFP in MTN neurons (intersect lines, W). Scale bars = 100 µm (A–W).
Antibody Labeling Details
No data available
Phenotype Details
No data available
Acknowledgments:
ZFIN wishes to thank the journal Developmental dynamics : an official publication of the American Association of Anatomists for permission to reproduce figures from this article. Please note that this material may be protected by copyright. Full text @ Dev. Dyn.