ZFIN ID: ZDB-FIG-150311-49
Blasky et al., 2014
- Pard3 regulates contact between neural crest cells and the timing of Schwann cell differentiation but is not essential for neural crest migration or myelination. Developmental dynamics : an official publication of the American Association of Anatomists 243(12):1511-23
Full text @ Dev. Dyn.
PHENOTYPE:
| | |
| --- | --- |
| Fish: | |
| Observed In: | |
| Stage: | Day 5 |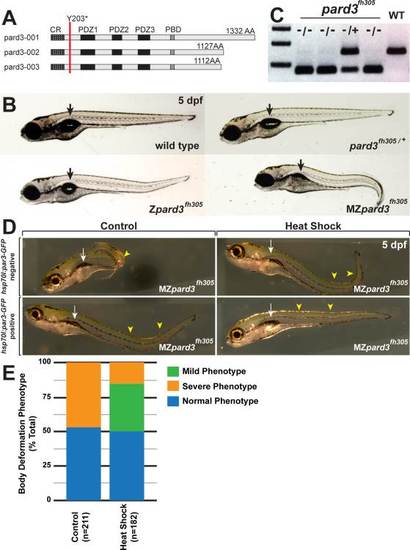 Fig. 1 Characterization of maternal and zygotic pard3 functions. A: Schematic representation of zebrafish Pard3 isoforms. Each isoform has a conserved oligomerzation domain (CR), three PDZ domains (PDZ1–3) and a Prkci binding domain (PBD). The pard3fh305 lesion, changing a tyrosine to a stop codon at amino acid position 203 (Y203*) occurs after the oligomerization domain and before the PDZ binding domains (red line). B: Images of 5 dpf wild-type, Zpard3fh305, pard3fh305/+, and MZpard3fh305 larvae. MZpard3fh305 larvae fail to form full swim bladders (arrow) and have a more extreme body curvature than Zpard3fh305 mutants. C: Genotyping test for the pard3fh305 allele. Heterozygotes generate bands of 155 base pairs (wild-type allele) and 68 and 87 base pairs, which appear as one band on the gel (mutant allele). Homozygous mutants, selected on the basis of body curvature phenotype, produce only the 68 and 87 base pair fragments. D: Representative images of 5 dpf MZpard3fh305 larvae either without ("negative", top row) or with ("positive", bottom row) the Tg(hsp70I:pard3-GFP) transgene. Larvae in left column are control, non-heat shocked and those in right column were heat shocked. Pard3-GFP expression rescued the body curvature (arrowheads) and swim bladder (arrows) phenotypes. E: Graph showing quantification of heat shock rescue experiment. Larvae were produced by crossing MZpard3fh305 females to pard3fh305/+; Tg(hsp70I:pard3-GFP) males. Non-heat shocked control and heat shocked groups therefore consist of approximately 50% MZpard3fh305 and 50% pard3fh305/+ larvae. Larvae were scored at 5 dpf for severity of body deformation and swim bladder formation. Control, n = 211; heat shock, n = 182.
Gene Expression Details
No data available
Antibody Labeling Details
No data available
Acknowledgments:
ZFIN wishes to thank the journal Developmental dynamics : an official publication of the American Association of Anatomists for permission to reproduce figures from this article. Please note that this material may be protected by copyright. Full text @ Dev. Dyn.