ZFIN ID: ZDB-FIG-140522-35
Your Input Welcome
Thank you for submitting comments. Your input has been emailed to ZFIN curators who may contact you if additional information is required.
Oops. Something went wrong. Please try again later.
EXPRESSION / LABELING:
Gene:
Antibodies:
Fish:
Condition:
Knockdown Reagent:
Anatomical Terms:
Stage Range:

High-pec

to

Pec-fin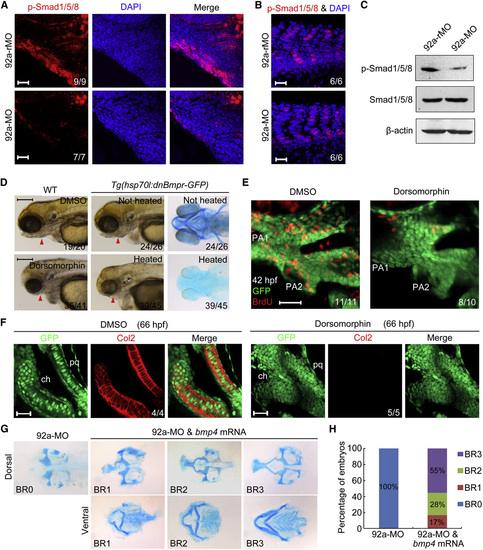 Fig. 4 mir92a Regulates Bmp Signaling during Pharyngeal Cartilage Formation
(A–C) p-Smad1/5/8 levels were reduced in the pharyngeal region of mir92a morphants. 92a-rMO and 92a-MO-injected (4 ng) Tg(fli1:EGFP) embryos at 42 hpf were stained for p-Smad1/5/8 using anti-p-smad1/5/8 and DAPI (A, B). The pharyngeal region (A) and trunk somite muscle (B) were observed after immunostaining by confocal microscopy. p-Smad1/5/8 in cell lysis of head region at 42 hpf was detected by western blotting (C). Scale bars, 20 µm.
(D) Embryos depleted of Bmp activity showed severe pharyngeal cartilage defects. Dorsomorphin-treated wild-type (WT) or heat-shocked Tg(hsp70l:dnBmpr-GFP) transgenic live embryos were photographed at 96 hpf and Pharyngeal cartilages of heat-shocked transgenic embryos at 80 hpf were detected with Alcian blue. Scale bars, 200 µm.
(E) Embryos depleted of Bmp activity showed a reduced proliferation of pharyngeal chondrogenic progenitors. BrdU-treated Tg(fli1:EGFP) transgenic embryos were stained at 42 hpf with anti-BrdU (red) and anti-GFP antibodies (green). The pharyngeal regions were observed by confocal microscopy. Scale bar, 20 µm.
(F) Deficiency of pharyngeal chondrogenic progenitor differentiation in dorsomorphin-treated embryos. Confocal sections of the palatoquadrate (pq) and ceratohyal (ch) cartilages of Tg(fli1:EGFP) transgenic embryos. These embryos were treated with DMSO or 10 µM dorsomorphin at 36 hpf and probed with anti-GFP and anti-Col2 antibodies at 66 hpf. Scale bars, 20 µm.
(G and H) 92a-MO-induced pharyngeal cartilage defects were rescued by bmp4 overexpression. Wild-type embryos were injected with 4 ng 92a-MO alone or together with 7 pg bmp4 mRNA at the one-cell stage and stained with Alcian blue for cartilages at 80 hpf. Coinjected embryos showed different levels of recovery of neurocranium and pharyngeal cartilages. Representative cartilage phenotypes (BR0-BR3) were shown in (G) and their ratios were shown in (H).
See also Fig. S4.
Antibody Labeling Details
Acknowledgments:
ZFIN wishes to thank the journal Developmental Cell for permission to reproduce figures from this article. Please note that this material may be protected by copyright.

Reprinted from Developmental Cell, 24(3), Ning, G., Liu, X., Dai, M., Meng, A., and Wang, Q., MicroRNA-92a upholds Bmp signaling by targeting noggin3 during pharyngeal cartilage formation, 283-295, Copyright (2013) with permission from Elsevier. Full text @ Dev. Cell