ZFIN ID: ZDB-FIG-140522-33
Your Input Welcome
Thank you for submitting comments. Your input has been emailed to ZFIN curators who may contact you if additional information is required.
Oops. Something went wrong. Please try again later.
PHENOTYPE:
| | |
| --- | --- |
| Fish: | |
| Knockdown Reagent: | |
| Observed In: | |
| Stage: | Pec-fin |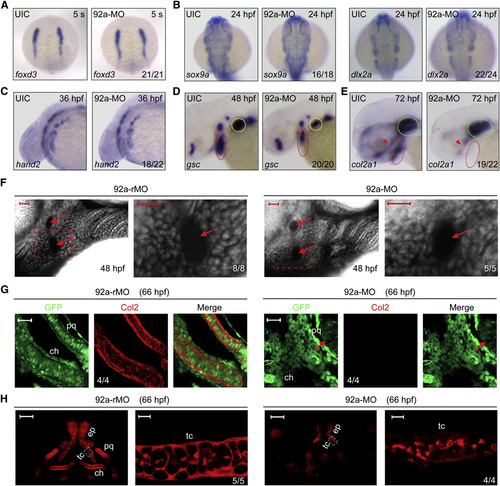 Fig. 2
Inactivation of mir92a Affects Late but Not Early Steps of Pharyngeal Cartilage Development
(A–E) The expression pattern of various markers in uninjected (UIC) or 92a-MO-injected (4 ng) embryos as detected by whole-mount in situ hybridization. Embryos in (A) and (B) were dorsal views with anterior to the top; the other embryos were lateral views with anterior to the left. The indicated ratio was the number of embryos with the shown representative phenotype/total number of observed embryos. Red and yellow circles in (D) indicated the pharyngeal region and pectoral fin, respectively. In (E), red and green circles indicated the pharyngeal arches and the cartilage capsule of the ears, and red arrowhead indicated the ethmoid plate and trabeculae cranii of dorsal neurocranial cartilages.
(F) The prechondrogenic condensation in mir92a morphants appeared normal. Embryos were injected at the one-cell stage with 4 ng 92a-rMO or 92a-MO, treated with BODIPY-ceramide at the end of gastrulation, and imaged by confocal microscopy at 48 hpf. The pharyngeal region was laterally viewed with dorsal to the top and anterior to the left. Extracellular space and cavity looked black. Arrows indicated aortic arches. The boxed area in the left image was enlarged and presented in the right. Scale bars, 20 µm.
(G) Detection of Col2 protein in pharyngeal prechondrogenic progenitors. Tg(fli1:EGFP) transgenic embryos were injected with 4 ng 92a-rMO or 92a-MO at the one-cell stage and coimmunostained with anti-GFP and anti-Col2 antibodies. The palatoquadrate (pq) and ceratohyal (ch) precartilages were shown with anterior to the top. Arrows in the right panel indicated eyes. Scale bars, 20 µm.
(H) Detection of Col2 in the neurocranial cartilages. Wild-type embryos, injected as in (G), were immunostained with anti-Col2 antibody. For each panel, the left was the dorsal view of the head region with anterior to the top and the right represented an enlargement of the area boxed in the left. Dorsal view, anterior to the top. The boxed area in the left image was presented at higher magnification in the corresponding right image. ch, ceratohyal; ep, ethmoid plate; pq, palatoquadrate; tc, trabeculate cranii. Scale bars, 50µm (left) and 5µm (right).
See also Fig. S2.
Antibody Labeling Details
Acknowledgments:
ZFIN wishes to thank the journal Developmental Cell for permission to reproduce figures from this article. Please note that this material may be protected by copyright.

Reprinted from Developmental Cell, 24(3), Ning, G., Liu, X., Dai, M., Meng, A., and Wang, Q., MicroRNA-92a upholds Bmp signaling by targeting noggin3 during pharyngeal cartilage formation, 283-295, Copyright (2013) with permission from Elsevier. Full text @ Dev. Cell