ZFIN ID: ZDB-FIG-131107-4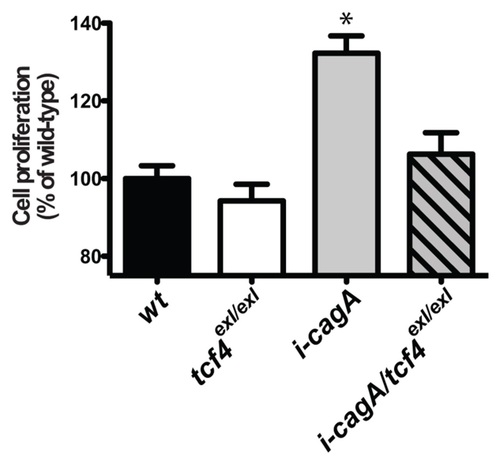 Fig. 4
CagA-dependent overproliferation of the intestinal epithelium requires tcf4. Intestinal epithelial cell proliferation at 15 dpf. Bars represent proliferation (mean ± s.e.m.) as a percentage of wild-type; n=10, *P<0.05 using one-way ANOVA with Tukey's test.
Gene Expression Details
No data available
Antibody Labeling Details
No data available
Acknowledgments:
This image is the copyrighted work of the attributed author or publisher, and ZFIN has permission only to display this image to its users. Additional permissions should be obtained from the applicable author or publisher of the image. Full text @ Dis. Model. Mech.