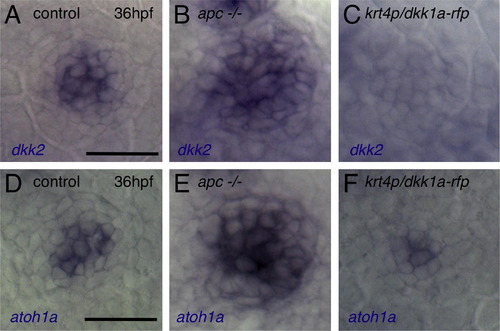 Fig. 3
Wnt Signaling Positively Regulates Neuromast Size, Whereas Dkk2/Krm Signaling Negatively Regulates It
(A) Neuromast O2 reaches its final size at 80 hpf in wild-type embryos. By contrast, O2 reaches its final size before 48 hpf, and the number of hair cells does not change over time in dkk2-overexpressing embryos.
(B) Manipulations of Wnt signaling affect hair cell numbers. Mean ± SEM is indicated. p < 0.001 (t test).
(C–E) Knockdown of dkk2 (D) or krm (E) gene function increases neuromast size and hair cell number, as revealed by DiAsp labeling.
(F and G) Wnt inhibition by overexpression of dkk2 reduces neuromast size, number of hair cells (F), and number of dividing cells (G). Scale bar represents 20 μm.
(H) Pharmacological blockade of cell division phenocopies inhibition of Wnt signaling.
See also Figures S1–S3.