ZFIN ID: ZDB-FIG-131031-24
Your Input Welcome
Thank you for submitting comments. Your input has been emailed to ZFIN curators who may contact you if additional information is required.
Oops. Something went wrong. Please try again later.
EXPRESSION / LABELING:
Genes:
Fish:
Knockdown Reagents:
Anatomical Terms:
Stage Range:

50%-epiboly

to

Bud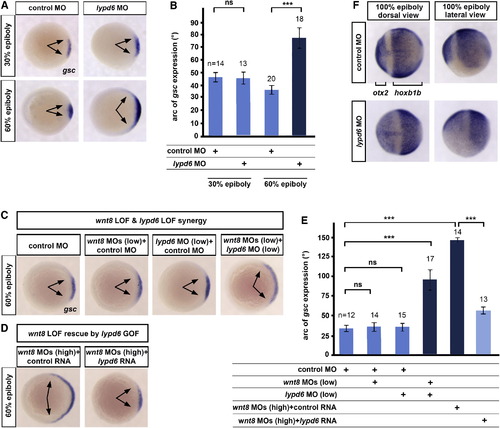 Fig. 3
lypd6 Is Necessary for wnt8-Mediated Mesoderm and Neuroectoderm Patterning
(A) Expansion of the dorsal organizer domain (arrows) marked by goosecoid (gsc), not at late blastula (30% epiboly), but at early gastrula (60% epiboly) stage in embryos injected with 10 ng lypd6 MO.
(B) Quantification of the experiment shown in (A). Error bars, SEM.
(C) Changes in the size of the gsc expression domain (arrows) at 60% epiboly in embryos injected with low doses of wnt8.1 and wnt8.2 MOs (1.25 ng each) and lypd6 MO (2 ng), relative to embryos injected with equimolar amounts of control MO.
(D) gsc expression in embryos injected with high doses of wnt8 MOs (5 ng each) and 150 pg lypd6 RNA or equimolar amounts of GFP control RNA.
(E) Quantification of the experiments shown in (C) and (D). Error bars, SEM.
(F) Expansion of the forebrain marker otx2 and reduction of the posterior neural marker hoxb1b at the 100% epiboly stage in embryos injected with 10 ng lypd6 MO (19/23).
Antibody Labeling Details
No data available
Phenotype Details
No data available
Acknowledgments:
ZFIN wishes to thank the journal Developmental Cell for permission to reproduce figures from this article. Please note that this material may be protected by copyright.

Reprinted from Developmental Cell, 26(4), Özhan, G., Sezgin, E., Wehner, D., Pfister, A.S., Kühl, S.J., Kagermeier-Schenk, B., Kühl, M., Schwille, P., and Weidinger, G., Lypd6 Enhances Wnt/beta-Catenin Signaling by Promoting Lrp6 Phosphorylation in Raft Plasma Membrane Domains, 331-345, Copyright (2013) with permission from Elsevier. Full text @ Dev. Cell