ZFIN ID: ZDB-FIG-131015-59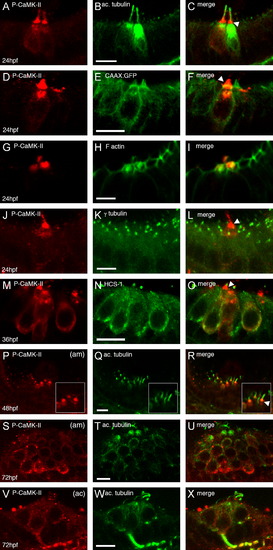 Fig. 1 Localization of activated CaMK-II in 24–72 hpf zebrafish embryonic ears. Embryos were immunostained for P-CaMK-II (A, D, G, J, M, P, S, V) in wild-type or CAAX:GFP embryos and then counterstained for acetylated tubulin (B, Q, T, W), F actin (H), γ tubulin (K) or HCS-1 (N). Arrowheads point to the most intense P-CaMK-II staining. Images were acquired laterally with anterior to the left at 24 hpf (A–L), 36 hpf (M–O), 48hpf (P–R) or 72 hpf (S–X). am=anterior macula, ac=anterior crista. All scale bars=5 μm.
Antibody Labeling Details
Phenotype Details
No data available
Acknowledgments:
ZFIN wishes to thank the journal Developmental Biology for permission to reproduce figures from this article. Please note that this material may be protected by copyright.

Reprinted from Developmental Biology, 381(1), Rothschild, S.C., Lahvic, J., Francescatto, L., McLeod, J.J., Burgess, S.M., and Tombes, R.M., CaMK-II activation is essential for zebrafish inner ear development and acts through Delta-Notch signaling, 179-88, Copyright (2013) with permission from Elsevier. Full text @ Dev. Biol.