ZFIN ID: ZDB-FIG-130311-20
PHENOTYPE:
| | |
| --- | --- |
| Fish: | |
| Knockdown Reagents: | |
| Observed In: | |
| Stage: | Prim-15 |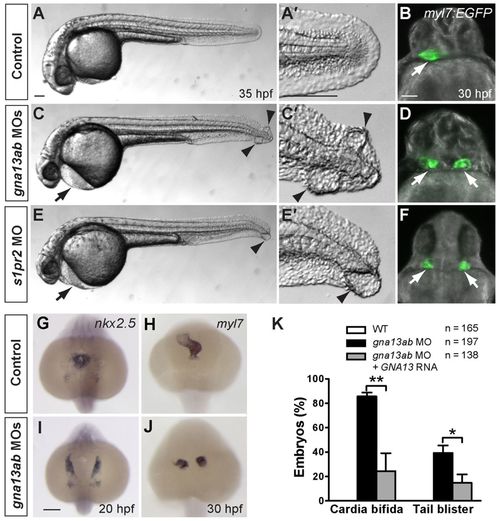 Fig. 1 Gα13 signaling is required for myocardial migration. (A-F) Comparison of control embryos (A,B), embryos injected with MOs against both gna13a and gna13b (C,D, gna13ab MOs), and embryos injected with a MO against s1pr2/mil (E,F) at 35 hpf. (A,C,E) Lateral bright-field images of embryos. Anterior is towards the left; arrows indicate pericardial edema; arrowheads indicate tail blisters. (A′,C′,E′) High-magnification images of the tail region of each embryo. (B,D,F) Overlay of epifluorescence and bright-field images of Tg(myl7:EGFP) embryos at 30 hpf. Ventral view; white arrows indicate hearts. (G-J) Expression of nkx2.5 and myl7, as detected by whole-mount in situ hybridization, in control and gnb13ab MO-injected embryos. Dorsoanterior view with anterior upwards. (K) Frequencies of cardia bifida and tail blistering in 35 hpf embryos injected with gna13ab MOs, alone or together with an RNA encoding the human Gα13 (GNA13). *P<0.05; **P<0.01. Data are mean±s.e.m. Scale bars: 100 μm.
Antibody Labeling Details
No data available
Acknowledgments:
ZFIN wishes to thank the journal Development (Cambridge, England) for permission to reproduce figures from this article. Please note that this material may be protected by copyright. Full text @ Development