ZFIN ID: ZDB-FIG-121025-43
Your Input Welcome
Thank you for submitting comments. Your input has been emailed to ZFIN curators who may contact you if additional information is required.
Oops. Something went wrong. Please try again later.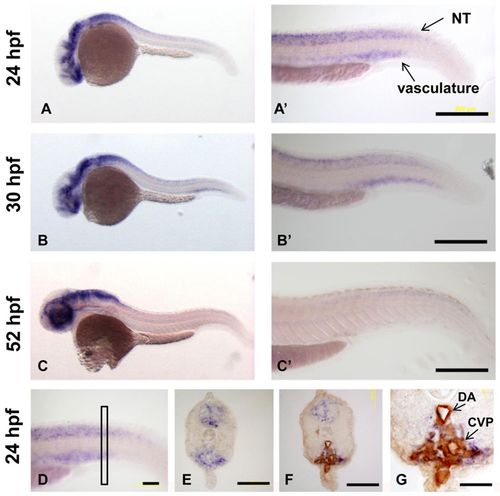 Fig. 4
Expression profile of s1p1 during zebrafish embryonic development. (A-G) In situ hybridization for s1p1 in zebrafish embryos at 24 hpf (A,A2), 30 hpf (B,B2) and 52 hpf (C,C2). A2, B2 and C2 show magnifications of the tail area shown in A, B and C, respectively. NT, neural tube. (D) Lateral view of the tail at 24 hpf. (E) Cross-section from the rectangular area marked in D. (F) Cross-section of Tg(fli-egfp)y1 zebrafish embryo counter-immunostained with anti-GFP antibody to mark blood vessels. (G) Magnification of F; both the dorsal aorta (DA) and the caudal vein plexus (CVP) show s1p1 expression. Scale bars: in A-C2, 200 μm; in D-F, 50 μm; in G, 20 μm.
Antibody Labeling Details
No data available
Phenotype Details
No data available
Acknowledgments:
ZFIN wishes to thank the journal Development (Cambridge, England) for permission to reproduce figures from this article. Please note that this material may be protected by copyright. Full text @ Development