ZFIN ID: ZDB-FIG-111101-32
Swartz et al., 2011
- Examination of a palatogenic gene program in zebrafish. Developmental dynamics : an official publication of the American Association of Anatomists 240(9):2204-2220
Full text @ Dev. Dyn.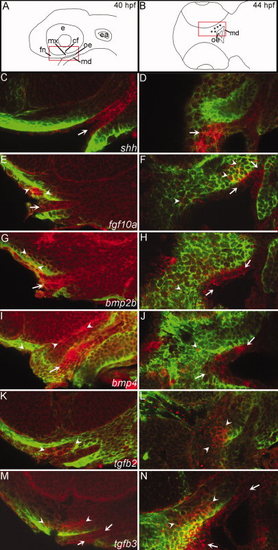 Fig. 7
Fluorescent in situ hybridization optical sections verify the expression patterns of signaling molecules at 40 and 44 hours postfertilization (hpf). A: Schematic lateral view of the zebrafish head at 40 hpf, red box indicates the magnified view of the in situ sagittal optical sections. B: Schematic diagram of the zebrafish head in ventral view, red box indicates area of in situ horizontal optical sections. C–N: mRNA localization is detected by fluorescence of NBT/BCIP precipitate in red and anti-enhanced green fluorescent protein (EGFP) immunostaining labels cranial neural crest cells (CNCC) in the fli1:EGFP transgenic background in green. Arrowheads indicate areas of CNCC expression domains, arrows indicate expression in the oral ectoderm. C,D:shh is expressed in the oral ectoderm at both time points. E: Both anterior oral ectoderm and frontonasal and maxillary CNCC express fgf10a at 40 hpf. F:fgf10a CNCC expression and oral ectodermal expression remains at 44 hpf. G: Anterior CNCCs and oral ectoderm express bmp2b at 40 hpf. H: By 44 hpf bmp2b is expressed more broadly in the oral ectoderm and less in the CNCC. I:bmp4 expression is in the oral ectoderm and the CNCC. J: At 44 hpf only a few CNCC express bmp4 while much of the oral ectoderm maintains bmp4 expression. K,L: Anterior CNCC express tgfb2 at 40 and 44 hpf. M–N: At both 40 and 44 hpf tgfb3 is expressed in anterior CNCC and the weak expression in the oral ectoderm.
Antibody Labeling Details
No data available
Phenotype Details
No data available
Acknowledgments:
ZFIN wishes to thank the journal Developmental dynamics : an official publication of the American Association of Anatomists for permission to reproduce figures from this article. Please note that this material may be protected by copyright. Full text @ Dev. Dyn.