ZFIN ID: ZDB-FIG-110920-89
Smith et al., 2011
- Transmembrane protein 2 (Tmem2) is required to regionally restrict atrioventricular canal boundary and endocardial cushion development. Development (Cambridge, England) 138(19):4193-4198
Full text @ Development
EXPRESSION / LABELING:
| | |
| --- | --- |
| Genes: | |
| Fish: | |
| Anatomical Terms: | |
| Stage: | Long-pec |
PHENOTYPE:
| | |
| --- | --- |
| Fish: | |
| Knockdown Reagent: | |
| Observed In: | |
| Stage: | Long-pec |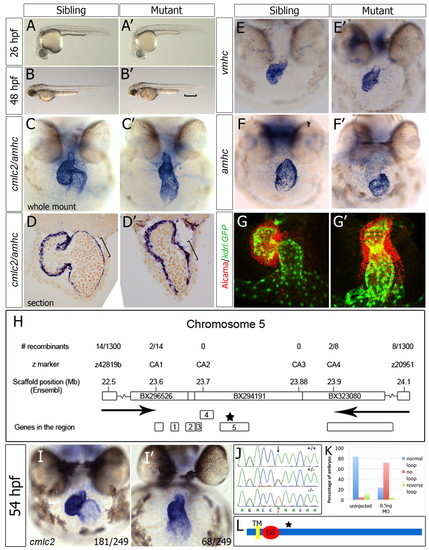 Fig. 1
Zebrafish wkm, which is associated with abnormal cardiac looping, encodes the novel protein Tmem2. (A-B′) Bright-field images of wkm mutants and siblings. The bracket indicates pooling of blood above the ventral tail fin. (C-D′) Whole-mount in situ hybridisation (ISH) (C,C′) and sectioning (D,D′) of wkm sibling and mutant embryos for cmlc2 (myl7) and amhc (myh6) at 52 hpf. The bracket indicates elongated atrial cells in siblings but not in mutant embryonic hearts. (E-F′) ISH staining for vmhc (E,E′) and amhc (F,F′) at 52 hpf. (G,G′) Confocal z-stacks of whole-mount Alcama-immunostained (red) kdrl:GFP (green) transgenic embryos at 50 hpf. (H) Positional cloning of wkm (allele tmem2hu4800) on zebrafish chromosome 5 (Ensembl, zv8). Arrows indicate the region where the wkm mutation resides between. (I,I′) ISH for cmlc2 on embryos from a wkmhu5935 × wkmhu4800 transheterozygote cross, showing (I) unaffected and (I′) affected transheterozygotes. The number of embryos scored out of the total examined is indicated. (J) Exon sequencing revealed an A-to-T transversion (arrow) in the wkmhu5935 allele, resulting in a stop codon (K329X) in tmem2. (K) A morpholino (MO) against tmem2 (0.5 ng) reproduced the wkm phenotype in 58/81 injected embryos (72%) at 48 hpf. (L) The predicted single transmembrane domain (TM), the G8 domain and the location of the premature stop codon (star, see H) in Tmem2.
Antibody Labeling Details
No data available
Phenotype Details
| Fish | Conditions | Stage | Phenotype |
| --- | --- | --- | --- |
| WT + MO2-cemip2 | standard conditions | Long-pec | heart looping disrupted, abnormal |
| | | Long-pec | heart tube mislocalised radially, abnormal |
| cemip2hu4800/+; cemip2hu5935/+(AB/TL) | standard conditions | Long-pec | heart looping disrupted, abnormal |
| | | Long-pec | heart tube mislocalised radially, abnormal |
| cemip2hu4800/hu4800(AB/TL) | standard conditions | Long-pec | atrial myocardium cardiac muscle cell shape, abnormal |
| | | Long-pec | heart looping disrupted, abnormal |
| | | Long-pec | heart tube mislocalised radially, abnormal |
| | | Long-pec | pericardium edematous, abnormal |
| | | Long-pec | post-vent region increased accumulation blood, abnormal |
| cemip2hu5935/hu5935(AB/TL) | standard conditions | Long-pec | atrial myocardium cardiac muscle cell shape, abnormal |
| | | Long-pec | heart looping disrupted, abnormal |
| | | Long-pec | heart tube mislocalised radially, abnormal |
| | | Long-pec | pericardium edematous, abnormal |
| | | Long-pec | post-vent region increased accumulation blood, abnormal |
Acknowledgments:
ZFIN wishes to thank the journal Development (Cambridge, England) for permission to reproduce figures from this article. Please note that this material may be protected by copyright. Full text @ Development