ZFIN ID: ZDB-FIG-110712-2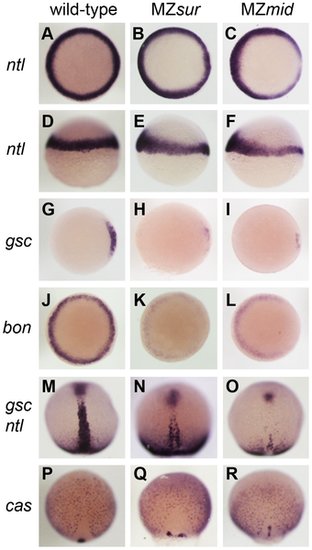 Fig. 2
Nodal-dependent tissue specification is differentially disrupted in FoxH1 mutants.
(A–L) Mesendoderm marker expression in wild-type and maternal-zygotic FoxH1 mutants at 40–50% epiboly. Dorsal is to the right; A–C, G–L are animal views, D–F are lateral views. Note the dorsal reduction of ntl expression in MZsur (E) and MZmid (F). (M–R) Axial mesoderm and endoderm marker expression at 90% epiboly, viewed dorsally with anterior up.
Antibody Labeling Details
No data available
Acknowledgments:
ZFIN wishes to thank the journal PLoS Genetics for permission to reproduce figures from this article. Please note that this material may be protected by copyright. Full text @ PLoS Genet.