ZFIN ID: ZDB-FIG-110317-11
EXPRESSION / LABELING:
| | |
| --- | --- |
| Genes: | |
| Antibodies: | |
| Fish: | |
| Condition: | |
| Anatomical Terms: | |
| Stage: | 5-9 somites |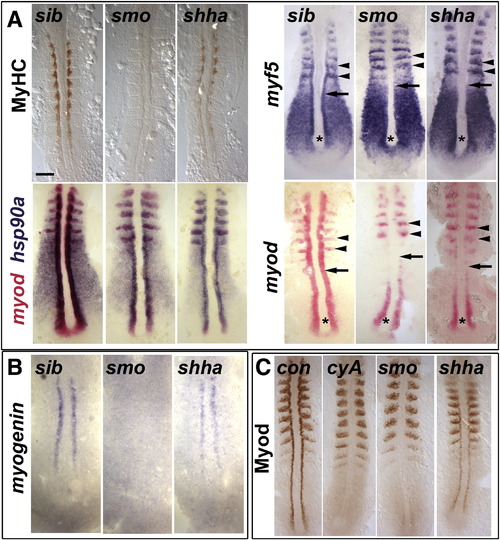 Fig. 1 Myod protein level correlates with slow myogenesis in Hh signalling mutants. In situ mRNA hybridization for myf5, myod, myog and hsp90a and immunodetection of Myod and Myosin Heavy Chain (MyHC) in dorsal flatmounts of 5 ss stage control, cyclopamine-treated (cyA), smob641 and shhatbx392 mutant embryos. Mutants were identified by significant reduction in one or both markers in ~ 25% of lay (shhatbx392: 9/41; smob641 14/50). Anterior to top. Bar: 100 μm. (A). Absence of MyHC in smob641 but only reduction in shhatbx392 mutants, despite indistinguishable loss of myod and myf5 mRNAs in adaxial cells in anterior pre-somitic mesoderm (arrows). Note that myf5 and myod expression in tailbud (asterisk) and presumptive fast muscle precursors (black arrowheads) is little affected by Hh manipulation. Shhatbx392 differs from smob641 only in expression of myod in differentiating adaxial muscle in somites (white arrowheads). (B). Myog mRNA is present in adaxial cells of shhatbx392 but not smob641 mutants. (C). Myod protein is absent in adaxial cells of cyA and smob641 embryos but weakly present in shhatbx392 mutant. Control embryos were either shhatbx392 siblings or untreated wild type.
Antibody Labeling Details
Acknowledgments:
ZFIN wishes to thank the journal Developmental Biology for permission to reproduce figures from this article. Please note that this material may be protected by copyright.

Reprinted from Developmental Biology, 350(2), Osborn, D.P., Li, K., Hinits, Y., and Hughes, S.M., Cdkn1c drives muscle differentiation through a positive feedback loop with Myod, 464-475, Copyright (2011) with permission from Elsevier. Full text @ Dev. Biol.