ZFIN ID: ZDB-FIG-110221-21
PHENOTYPE:
| | |
| --- | --- |
| Fish: | |
| Conditions: | |
| Observed In: | |
| Stage: | Day 5 |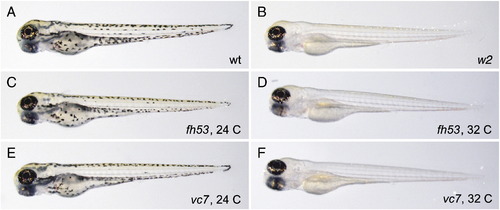 Fig. 1 Temperature sensitivity of two mitfa hypomorphic alleles: larval phenotypes. A) Wild-type, B) mitfaw2, C) mitfafh53 raised at 24 °C, D) mitfafh53 raised at 32 °C, E) mitfavc7 raised at 24 °C, and F) mitfavc7 raised at 32 °C.
Gene Expression Details
No data available
Antibody Labeling Details
No data available
Acknowledgments:
ZFIN wishes to thank the journal Developmental Biology for permission to reproduce figures from this article. Please note that this material may be protected by copyright.

Reprinted from Developmental Biology, 350(2), Johnson, S.L., Nguyen, A.N., and Lister, J.A., mitfa is required at multiple stages of melanocyte differentiation but not to establish the melanocyte stem cell, 405-413, Copyright (2011) with permission from Elsevier. Full text @ Dev. Biol.