ZFIN ID: ZDB-FIG-110121-14
EXPRESSION / LABELING:
| | |
| --- | --- |
| Genes: | |
| Antibody: | |
| Fish: | |
| Anatomical Terms: | |
| Stage: | Prim-15 |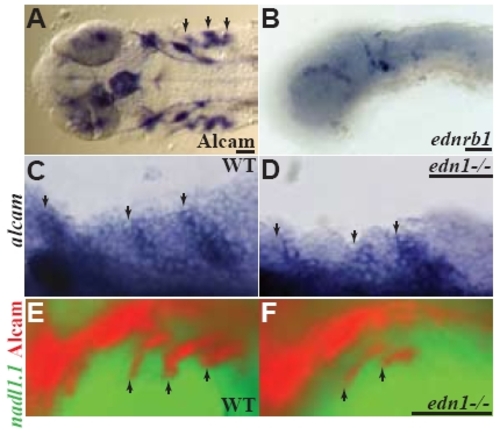 Fig. S2 alcama and nadl1.1 ISH in edn1-/- mutants. (A, B) 30 hpf WT larvae showing expression of alcama and ednrb1 respectively. (C, D) alcama ISH showing expression in pharyngeal pouches of WT and edn1-/- larvae at 30 hpf. (E, F) 30 hpf larvae stained with Alcama antibody (Fast Red) and nadl1.1 RNA (Fluorescein). nadl1.1 expression in the NC is unchanged while Alcama is down-regulated in edn1-/- mutants (F). Arrows point to alcama expression in the pharyngeal pouches. Scale bars: 50 μm.
Antibody Labeling Details
No data available
Phenotype Details
No data available
Acknowledgments:
ZFIN wishes to thank the journal Developmental Biology for permission to reproduce figures from this article. Please note that this material may be protected by copyright.

Reprinted from Developmental Biology, 349(2), Choudhry, P., Joshi, D., Funke, B., and Trede, N., Alcama mediates Edn1 signaling during zebrafish cartilage morphogenesis, 483-493, Copyright (2011) with permission from Elsevier. Full text @ Dev. Biol.