ZFIN ID: ZDB-FIG-101011-39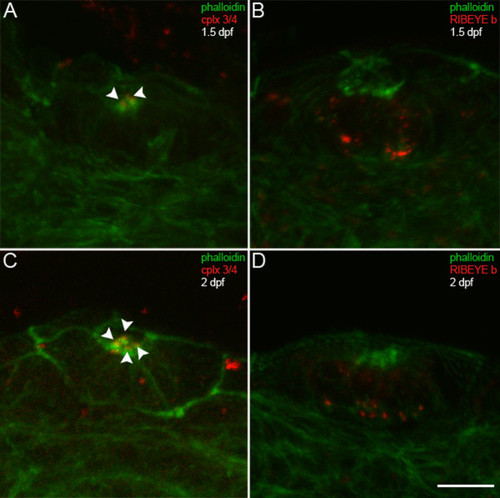 Fig. 8 Complexin 3/4 does not co-localize with RIBEYE b in embryonic neuromast hair cells. (A) Embryonic zebrafish at 1.5 dpf were sectioned transversely. Phalloidin (green) and anti-complexin 3/4 (red) were used to probe otic neuromasts. Note that complexin 3/4 is weakly expressed among neuromast hair cell stereocilia at this time (arrowheads). (B) Large RIBEYE b puncta (red) can be observed at the base, and diffuse cytoplasmic immunoreactivity elsewhere, in a couple of neuromast hair cells at 1.5 dpf. (C) Greater numbers of hair cells in an otic neuromast have stereocilia (green) at 2 dpf. These hair cells also have apical complexin 3/4 immunoreactivity (red, arrowheads). (D) At 2 dpf, many hair cells in an otic neuromast have RIBEYE b immunoreactivity (red). Scale bar = 10 μm.
Gene Expression Details
No data available
Antibody Labeling Details
Phenotype Details
No data available
Acknowledgments:
ZFIN wishes to thank the journal Neural Development for permission to reproduce figures from this article. Please note that this material may be protected by copyright. Full text @ Neural Dev.