ZFIN ID: ZDB-FIG-090223-28
Jin et al., 2009
- Definitive hematopoietic stem/progenitor cells manifest distinct differentiation output in the zebrafish VDA and PBI. Development (Cambridge, England) 136(4):647-654
Full text @ Development
EXPRESSION / LABELING:
| | |
| --- | --- |
| Gene: | |
| Fish: | |
| Anatomical Term: | |
| Stage: | Day 4 |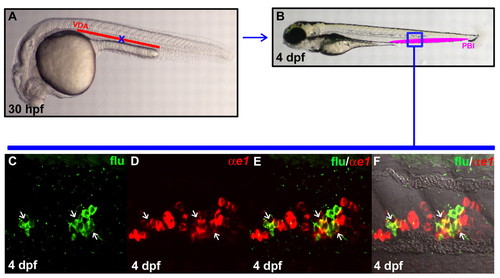 Fig. 2 VDA originated HSPCs are capable of giving rise to definitive erythroid cells once homed to the PBI. (A) Lateral view of 30 hpf embryo indicates the uncaged position (blue cross) in the anterior part of VDA. (B) Lateral view of 4 dpf embryo. The boxed region (blue) indicates the relative position in the PBI where flu and βe1-globin RNA double-positive cells are found after uncaging. (C,D) Confocal images of the boxed region in B show the flu signal and βe1-globin RNA staining in the PBI. (E) Merged image of C and D. (F) Superimposed view of E and DIC image. White arrows indicate the co-staining of flu and βe1-globin RNA.
Antibody Labeling Details
No data available
Phenotype Details
No data available
Acknowledgments:
ZFIN wishes to thank the journal Development (Cambridge, England) for permission to reproduce figures from this article. Please note that this material may be protected by copyright. Full text @ Development