ZFIN ID: ZDB-FIG-080514-16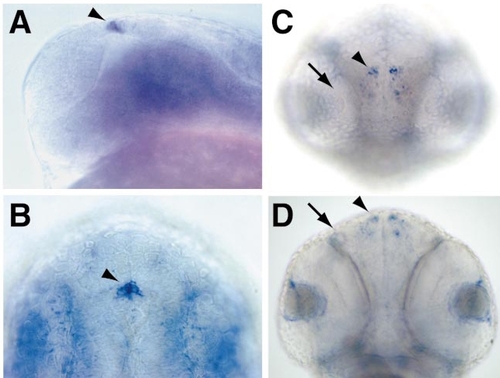 Fig. 3 Expression of mitfb in nonpigment cells. (A) 24 hpf, lateral view; (B) dorsal view. Expression of mitfb in the epiphysis (arrowheads). (C) 48 hpf, frontal view; (D) 48 hpf, ventral view. mitfb is detected in symmetrical clusters of cells in the olfactory bulbs (arrowheads; arrows indicate olfactory organ).
Antibody Labeling Details
No data available
Phenotype Details
No data available
Acknowledgments:
ZFIN wishes to thank the journal Developmental Biology for permission to reproduce figures from this article. Please note that this material may be protected by copyright.

Reprinted from Developmental Biology, 237(2), Lister, J., Close, J., and Raible, D., Duplicate mitf genes in zebrafish: complementary expression and conservation of melanogenic potential, 333-344, Copyright (2001) with permission from Elsevier. Full text @ Dev. Biol.