ZFIN ID: ZDB-FIG-080514-15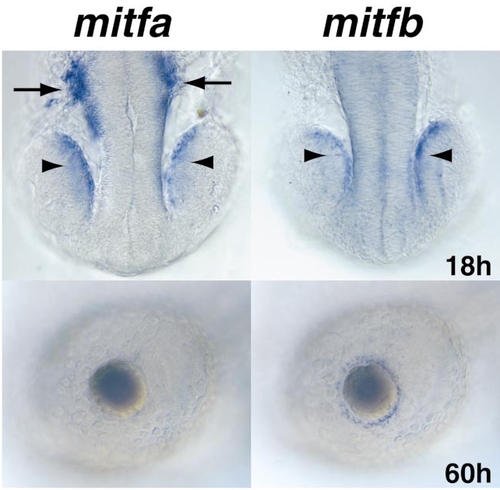 Fig. 2 Expression of mitfb during eye development. (Top) 18 somite stage. Both mitfa and mitfb are expressed in the RPE (arrowheads) but only mitfa is expressed in neural crest (arrows). (Bottom) 60 hpf. At this stage, mitfa expression is no longer detectable in the eye; however, mitfb transcripts are present in cells at the retinal margin. Anterior is to the left.
Antibody Labeling Details
No data available
Phenotype Details
No data available
Acknowledgments:
ZFIN wishes to thank the journal Developmental Biology for permission to reproduce figures from this article. Please note that this material may be protected by copyright.

Reprinted from Developmental Biology, 237(2), Lister, J., Close, J., and Raible, D., Duplicate mitf genes in zebrafish: complementary expression and conservation of melanogenic potential, 333-344, Copyright (2001) with permission from Elsevier. Full text @ Dev. Biol.