ZFIN ID: ZDB-FIG-080416-13
EXPRESSION / LABELING:
Genes:
Fish:
Conditions:
Anatomical Terms:
Stage Range:

Prim-15

to

Adult
PHENOTYPE:
| | |
| --- | --- |
| Fish: | |
| Condition: | |
| Observed In: | |
| Stage: | Prim-15 |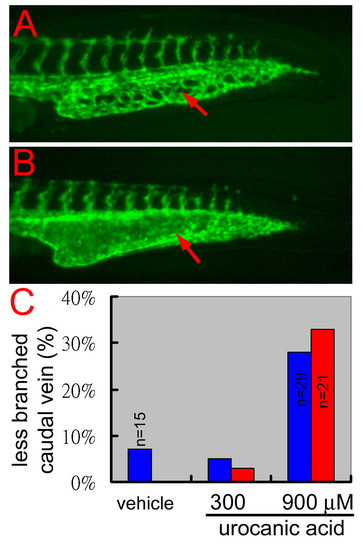 Fig. 7 Blocking of histamine synthesis causes blood vessel branching defects in wild-type zebrafish embryos. (A) In a 32 hpf wild-type embryo, the developing caudal vein formed a transient vascular plexus. (B) When treated with 900 μM of the histamine synthesis blocker, urocanic acid, the caudal vein of a wild-type sibling formed much fewer vascular branches and even developed a reg6-like swollen lumen. Red arrows, caudal veins. (C) Quantitative results of the suppression of urocanic acid on blood vessel branching in wild-type zebrafish embryos. Two clutches of wild-type embryos (blue and red bars) were treated with the vehicle (0.0015 hydrochloric acid), or 300 or 900 μM of urocanic acid in egg water, from 26–36 hpf at 28.5°C. The percentage of embryos with less branched caudal vein was scored at the end of treatment (Y-axis, n = 40 unless otherwise specified).
Antibody Labeling Details
No data available
Acknowledgments:
ZFIN wishes to thank the journal BMC Developmental Biology for permission to reproduce figures from this article. Please note that this material may be protected by copyright. Full text @ BMC Dev. Biol.