ZFIN ID: ZDB-FIG-071019-36
EXPRESSION / LABELING:
Genes:
Fish:
Knockdown Reagent:
Anatomical Terms:
Stage Range:

50%-epiboly

to

Bud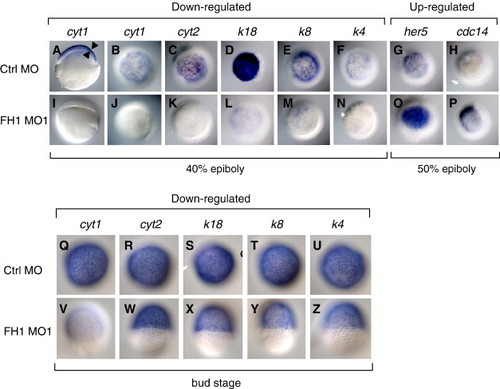 Fig. 4 Down-regulation of keratins and up-regulation of cell cycle genes in FoxH1 morphants. (A, B, I and J) Loss of cyt1 expression in FoxH1-depleted embryos at 40% epiboly. Panels A and I are lateral views, panels B and J are animal pole views. Arrowheads in panel A point to the superficial expression of cyt1 in the enveloping layer (EVL). (C–F; K–N) Reduced expression of four other keratins in FoxH1 morphants at the 40% epiboly stage. (G–H; O–P) Increased expression of her5 and cdc14 expression in FoxH1 morphants at the 50% epiboly stage. Panels C–H and K–P are animal pole views. (Q–Z) Recovery of most keratins in FoxH1 morphants at bud stage. Panels Q–Z are dorsal views. Abbreviations: FH1, FoxH1; ctrl, control.
Antibody Labeling Details
No data available
Phenotype Details
No data available
Acknowledgments:
ZFIN wishes to thank the journal Developmental Biology for permission to reproduce figures from this article. Please note that this material may be protected by copyright.

Reprinted from Developmental Biology, 310(1), Pei, W., Noushmehr, H., Costa, J., Ouspenskaia, M.V., Elkahloun, A.G., and Feldman, B., An early requirement for maternal FoxH1 during zebrafish gastrulation, 10-22, Copyright (2007) with permission from Elsevier. Full text @ Dev. Biol.