ZFIN ID: ZDB-FIG-070307-57
EXPRESSION / LABELING:
| | |
| --- | --- |
| Gene: | |
| Fish: | |
| Condition: | |
| Anatomical Term: | |
| Stage: | Adult |
PHENOTYPE:
| | |
| --- | --- |
| Fish: | |
| Condition: | |
| Observed In: | |
| Stage: | Adult |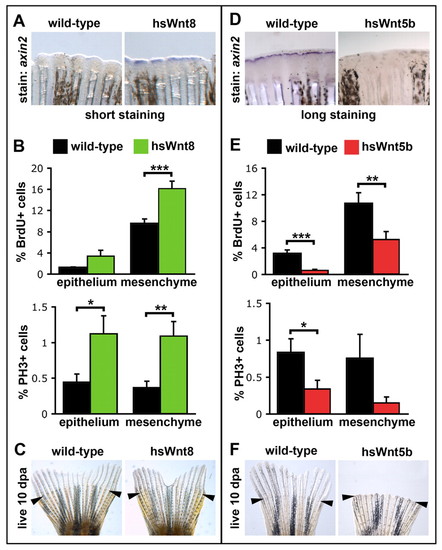 Fig. 4 β-catenin-dependent and β-catenin-independent Wnt signaling pathways have opposing roles in zebrafish fin regeneration. (A,D) Overexpression of Wnt8 in hsWnt8GFP transgenic fish induces the Wnt/β-catenin target gene axin2 in regenerating fins 6 hours after heat shock at 3 dpa (A; 3 of 4 fins), whereas overexpression of Wnt5b in hsWnt5bGFP transgenic fish represses axin2 expression (D; n=4). Note that staining reactions were stopped as soon as a robust signal could be detected in most samples of one experimental group. Robust signal was first detected in hsWnt8GFP fins (versus wild-type controls) after a short amount of time and reactions were stopped (A), whereas robust signal was first detected in wild-type controls (versus hsWnt5GFP fins) after a longer staining reaction (D), thus accounting for the difference in wild-type signal between groups. (B,E) Cell proliferation in regenerating fins, as detected by BrdU incorporation and staining with an anti-PH3 antibody, is increased by overexpression of Wnt8 (B; n=14), and repressed by overexpression of Wnt5b (E; n=10). Fish were heat shocked once at 66 hpa and fixed at 72 hpa. The percentage of BrdU-positive or PH3-positive cells relative to the total number of cells in sections of regenerating fins is shown. Error bars represent the s.e.m. (C,F) Whereas overexpression of Wnt8 for 10 days starting shortly before amputation has no obvious effect on overall length of the regenerate (C; n=16), overexpression of Wnt5b completely inhibits regeneration (F; n=16). (B) *P=0.0579; **P=0.0082; ***P=0.0002 (two-tailed). (E) *P=0.0377; **P=0.0123; ***P=0.0006 (two-tailed).
Antibody Labeling Details
No data available
Acknowledgments:
ZFIN wishes to thank the journal Development (Cambridge, England) for permission to reproduce figures from this article. Please note that this material may be protected by copyright. Full text @ Development