ZFIN ID: ZDB-FIG-060808-225
EXPRESSION / LABELING:
| | |
| --- | --- |
| Genes: | |
| Fish: | |
| Anatomical Term: | |
| Stage: | Bud |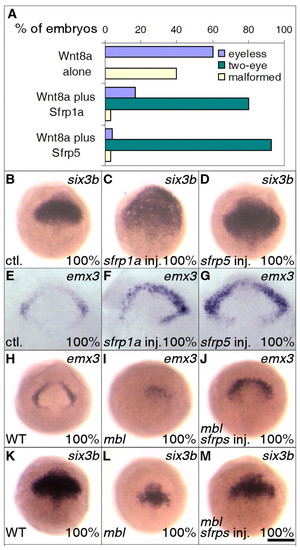 Fig. 4 Sfrps antagonize Wnt signaling and partially restore forebrain marker expression in mbl mutant embryos. (A) Sfrp1a and Sfrp5 rescue eye development in wnt8a mRNA-injected embryos. Injected embryos were scored after 24 hours post-fertilization. (B-D) sfrp1a or sfrp5 gain of function expands the six3b expression domain. (E-G) sfrp1a or sfrp5 gain of function expands the emx3 expression domain. Embryos were dissected and flat mounted in glycerol after in situ hybridization. Animal pole views, rostral to the top. (H-M) Overexpression of Sfrps partially restores emx3 (J) and six3b (M) expression in mbl embryos. Dosage injected was 150 pg of sfrp1a mRNA and 100 pg of sfrp5 mRNA per embryo. Genotypes of mutant and partially rescued embryos were verified by RFLP. WT, wild-type embryos. Scale bar in M: 250 μM for B-M.
Antibody Labeling Details
No data available
Phenotype Details
No data available
Acknowledgments:
ZFIN wishes to thank the journal Development (Cambridge, England) for permission to reproduce figures from this article. Please note that this material may be protected by copyright. Full text @ Development